Crop Pest Management School
Virtual Crop Pest Management School
December 8 or December 10
The same program will be presented both days.
Cost: $40
This virtual meeting is replacing the in-person meetings scheduled for December 8, 9 and 10 in Russell, Phillipsburg and Oakley. If you have any questions about this, please contact the K-State Northwest Area Extension Office at (785) 462-6281.
Registration is closed.
Registration ended December 6
Requirements:
One person per electronic device (laptop/desktop/tablet).
We recommend using a desktop or laptop to connect to the Zoom software for the best viewing experience. Tablets, ipads, and cell phones may be used, but may not provide the best viewing experience.
Internet connection
Zoom application loaded on the device (download at zoom.us)
Audio (from computer speakers, microphone, or via telephone)
A 'come and go' practice session for using Zoom will be held on December 4 from 11:30 to 1:30 CT. A link will be sent out for this Zoom session.
Credits Available:
Commercial Applicators - 7 credits for 1A and 1 Core Hour
Certified Crop Advisors - 8 Crop Pest Management Credits
Attendees must be present for the entire 50-minute presentation to receive one recertification credit. There may be only one attendee per electronic device. During the training, you will be asked to answer poll questions or provide additional information. Participants are required to respond to these requests to verify attendance and receive credit for that session.
Schedule:
| | | |
| --- | --- | --- |
| 7:50 | Zoom Open | |
| 8:05 | Welcome and Housekeeping | |
| 8:15 | Technology Update in Insect Control | Dr. JP Michaud |
| 9:10 | Those Challenging Weeds - Palmer Amaranth | Dr. Vipan Kumar |
| 10:05 | Break | |
| 10:20 | Alfalfa Management - Insects and Diseases | Dr. Romulo Lollato |
| 11:15 | Technology Update in Weed Control | Dr. Sarah Lancaster |
| 12:10 | Lunch | |
| 12:50 | Wheat Diseases | Dr. Kelsey Anderson Onofre |
| 1:45 | Application Technology | Dr. AJ Sharda |
| 2:40 | Break | |
| 2:55 | Diseases of Row Crops (Corn, Soybeans and Grain Sorghum) | Dr. Rodrigo Borba Onofre |
| 3:50 | Kansas Regulations (Core Hour) | KDA Representative |
| 4:45 | Questions | |
| 5:00 | Adjourn | |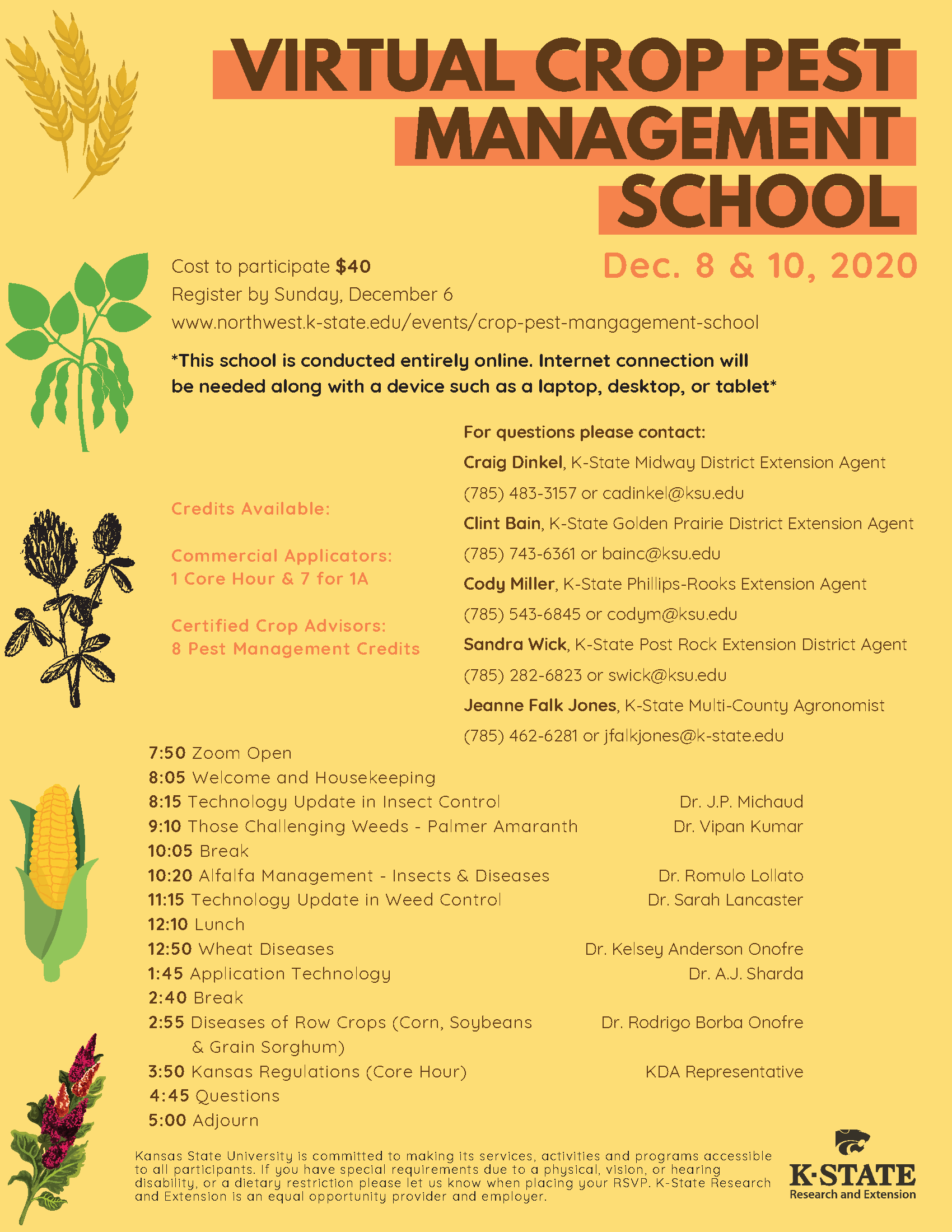 If you have questions, please contact:
Jeanne Falk Jones, K-State Multi-County Agronomist
(785) 462-6281 or jfalkjones@k-state.edu
Clint Bain, K-State Golden Prairie District Extension Agent
(785) 743-6361 or bainc@ksu.edu
Craig Dinkel, K-State Midway District Extension Agent
(785) 483-3157 or cadinkel@ksu.edu
Cody Miller, K-State Phillips-Rooks Extension Agent
(785) 543-6845 or codym@ksu.edu
Sandra Wick, K-State Post Rock Extension District Agent
(785) 282-6823 or swick@ksu.edu